Nicole F. Smith
Nicole Smith is an archaeologist, educator and speaker. Since 2000, archaeological research has taken her throughout coastal British Columbia, to the Northwest Territories and to Tierra del Fuego in southernmost Argentina. She has worked with over 20 First Nations communities throughout BC and academic colleagues to broaden the knowledge about coastal heritage, focusing on clam gardens, fish traps, stone tools, archaeological sites over 10,000 years old and the effects of climate change and sea-level rise on cultural heritage. Her teams' results have been published internationally and recognized in the media, including the BBC, CBC's Quirks & Quarks and Hakai Magazine. She loves working with grade-school students to help them learn more about archaeology. Nicole lives with her family on the Traditional Territories of the Coast Salish Peoples on southern Vancouver Island, British Columbia.
Books by Nicole F. Smith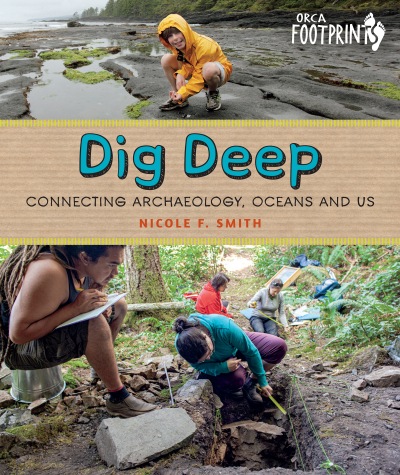 This nonfiction book introduces middle-grade readers to marine archaeology. Illustrated with photographs throughout, in this book young people will discover how understanding our ancient ancestors' relationships with the ocean can help the planet today and in the future.