Laura Theodore
Laura Theodore is a nationally recognized television personality, podcast radio host, celebrity PBS vegan chef, and Grammy nominated jazz singer. Her television series, Jazzy Vegetarian, has been the recipient of the TASTE Awards (Best Health and Fitness Television Program [Food and Diet]) three times. She is host of The Laura Theodore Podcast, a talk/music format that focuses on easy-to-prepare, plant-based recipes, eco-entertaining tips, and celebrity interviews available on Unity Online., and star of Jazzy Vegetarian TV channel, an online subscription-based streaming network. Her six cookbooks are Easy Vegan Home Cooking (2022), Vegan for Everyone (2020), Jazzy Vegetarian's Deliciously Vegan (2018), Laura Theodore's Vegan-Ease (2015), Jazzy Vegetarian Classics (2013), and Jazzy Vegetarian (2011). Media exposure includes these publications New York Times, New York Daily News, Mother Earth Living, VegNews, Family Circle, and Readers Digest.
Books by Laura Theodore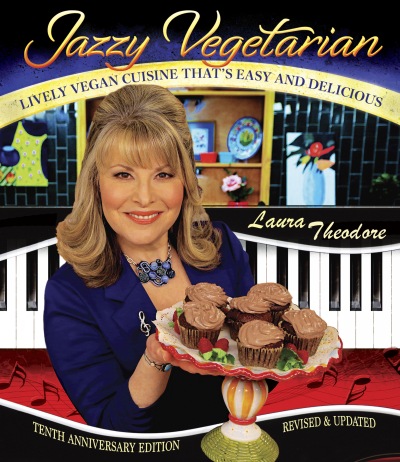 This 10th Anniversary edition coincides with the 10th season of the Jazzy Vegetarian television series and features recipes from new and past seasons.