Ansley Simpson
Ansley Simpson is a Toronto-based Anishinaabe musician known for her poetic lyrics, deeply moving vocal-only performances, and dream-like arrangements. Nominated for two 2018 Indigenous Music Awards and winner of "Best New Artist", her debut album Breakwall is a gentle, powerful collection of songs that showcase her lilting vocals, clear melodic sensibility, and intricate guitar playing to moving effect. She is a natural performer, holding audiences spellbound with story-telling embedded both in and out of her songs. Moving beyond the world of songwriting into composition, Ansley created the original score for Tanya Talaga's recent documentary film Spirit to Soar. Ansley's sophomore album, She Fell from the Sky an 11 track journey to Indigenous reclamation is coming out 2021 on Gizhiiwe.
Books by Ansley Simpson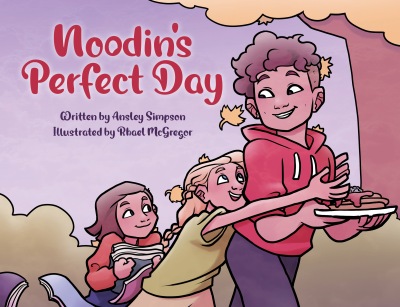 Noodin, a nonbinary Anishnaabe kid, plans to spend their day reading and eating pancakes - until they unexpectedly get saddled with babysitting duties. A hunt for amusements and snacks ensues, taking them across the city to meet many friends - human and animal.